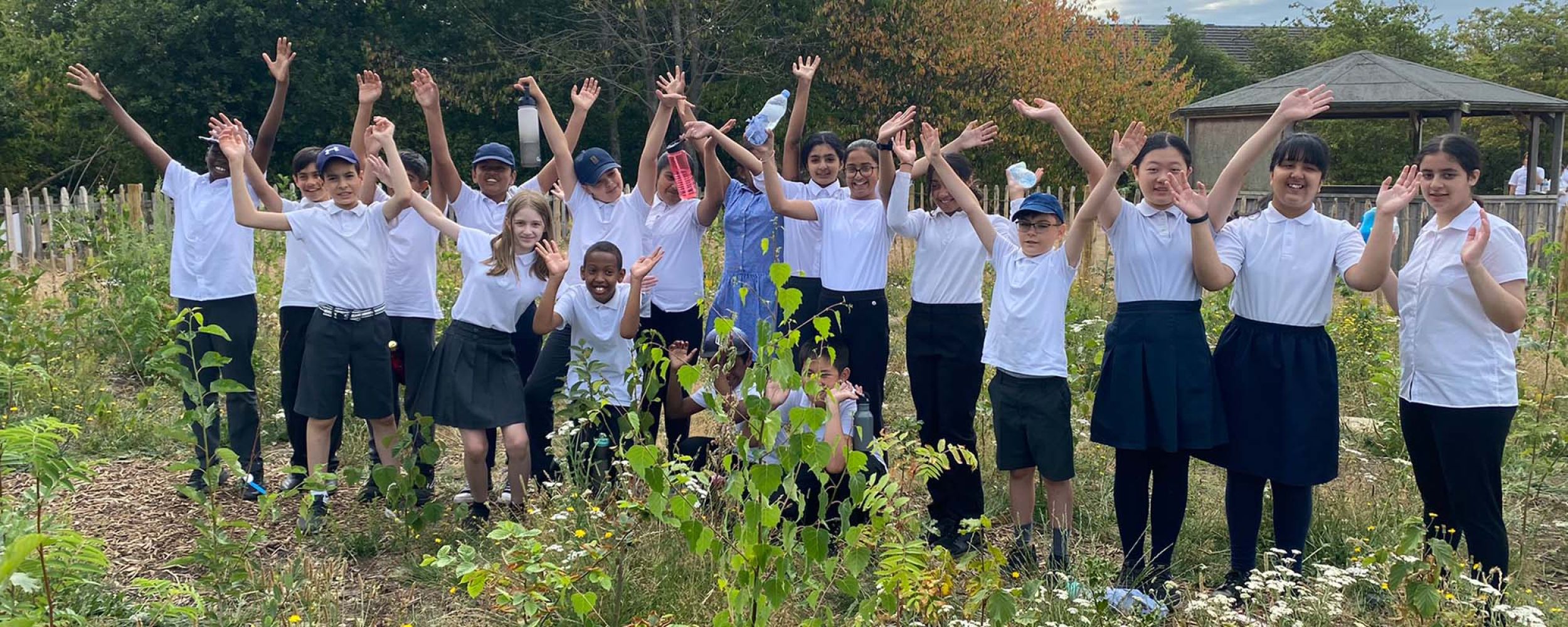 William Torbitt Primary School Tiny Forest (London), credit Earthwatch Europe
What is Tiny Forest?
A Tiny Forest is a dense, fast-growing native woodland, about the size of a tennis court. These forests are not only great homes for butterflies, birds, bees and other wildlife but also a place for people to connect with, and learn about, nature. Each forest is a unique public asset – planted and cared for by the local community.
These super tiny, super powerful forests aim to mimic natural forests but in a small space. They include a mix of native trees which, over time, will create a wildlife-rich woodland. Tiny Forests don't require much space and they can be planted anywhere that land is available – in a park, school or on a brownfield site.
Earthwatch Europe is pioneering Tiny Forest in the UK and is part of the global Tiny Forest Network, working in partnership with IVN Natuureducatie.
A nature-based solution
Environmental issues such as flooding, increased temperatures from climate change, and loss of wildlife are increasingly affecting urban areas. Tiny Forest can play a part in tackling these challenges. Tiny Forests capture carbon from the atmosphere, help with urban cooling by providing shade and provide much-needed homes for urban wildlife.
Tiny Forests use the Miyawaki tree planting method, where a community of native trees that include the different layers found in a mature forest, are planted close together. This allows our Tiny Forests to develop rapidly and form a multi-layered forest ecosystem. We chose this method for Tiny Forests as it is the perfect way to fit a bustling forest ecosystem into small urban spaces, while providing the local community and schools with all the wonderful benefits of urban trees.
Photo: Muziekplein Tiny Forest (Utrecht, Netherlands), credit IVN Natuureducatie.
An outdoor classroom
Tiny Forest provides a place for children to connect with the outdoors. Children are encouraged to help plant the forests, care for them and help with wildlife and carbon surveys.
Tiny Forest also provides an outdoor learning resource that complements classroom education. Our learning and science experts deliver training sessions for teachers, as well as assemblies and classes for school children. This experience equips both teachers and children with the knowledge and skills to understand the natural world and take positive environmental action.
Photo: Monkton Park Tiny Forest (Chippenham) credit Earthwatch Europe.
A place to come together
Tiny Forests provide a beautiful natural space where local people can spend time in nature or come together as a community.
Each of these forests is cared for and enjoyed by the local community. In their early stages, Tiny Forests need to be looked after to ensure that they grow healthily. Under the careful management of Tree Keeper volunteers, communities water, weed and care for their local forests. This not only builds connections with the forests themselves but also helps to foster connections in the community.
Photo: Haringey Tiny Forest (London) credit American Express.
Tiny Forest is growing
Earthwatch Europe planted the UK's first Tiny Forest in March 2020 in Oxfordshire, with partner Witney Town Council. Since then, we have continued to plant more Tiny Forests across the country in collaboration with a wide range of amazing partners.
We are always seeking visionary partners to bring Tiny Forest to the communities that will benefit from them most. If you would like to help us establish a Tiny Forest in your area, get in touch. get in touch.
Photo: Southmere Park Tiny Forest (London), credit Richard Held.
Earthwatch Europe is pioneering Tiny Forest in the UK and is part of the global Tiny Forest Network, working in partnership with IVN Natuureducatie'